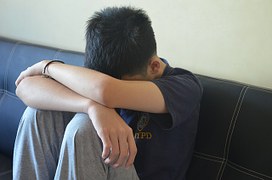 For Parents
One of the most difficult challenges in life is trying to cope with a child's problem with alcohol and drugs. Many people come to Al‑Anon for the support and understanding they need to handle this heart-breaking situation.
A major trend seen around the world is that more and more of our members at Al-Anon meetings are parents with a child or children who have addiction problems. The children can be anything from an early age – sometimes, sadly, pre-teen - to 30 years plus.
It comes as a great shock to many parents that their child has a drinking problem. In our South African culture, having 'a few drinks' after work or at parties and braais, appears to be far more socially acceptable than taking drugs. But what is often missed in these situations is that drug taking is usually preceded by heavy drinking. Resistance is lowered and accepting 'just one' hit, along with severe peer pressure, is a cocktail to addiction.
Whether there is alcoholism in your family or not, our children – at any age – are in danger of becoming addicted.
Al-Anon Family Groups provides parents with the support of other members experiencing this heart-breaking situation. The family dynamic is affected at all levels and for many, an Al-Anon meeting is the first time a parent can speak the truth, cry, express their feelings and get the support of the group and our literature in dealing with this problem and working on your own recovery.
An Al-Anon meeting is a safe place. Totally confidential and anonymous, you will find others who have been or are still going through the same experience. You are not alone.
Go to our Meetings page to find a meeting near you. Meetings are free. You can go alone or with a spouse or partner or friend. We will welcome you with open hearts.
In the meantime, here is a link to an excellent podcast where parents share their stories. It's worth listening to.
http://al-anon.alateen.org/images/audio/Al-Anon%20helps%20parents%20of%20problem%20drinkers.mp3
You will also find help on our global site where parents share their stories:
http://al-anon.alateen.org/for-parents
Or contact our office today Tel no: 011 867 0731 ; Email: alanontvl@absamail.co.za
I saw a sign - Chet M, Conn. USA
For 25 years I lived with active alcoholism. Finally I heard someone say I needed Al-Anon after my son suffered an eviction, a repossessed car, and the loss of a job because of his alcoholism and drugs. For a couple of years I didn't make very much progress in the program beyond the first three Steps. There were still certain things with my son where I couldn't give up control. I wouldn't let go of the strings I thought it was my job as a parent to hold.
I knew I was powerless over alcohol and I believed in a Higher Power. I even turned myself over to the Care of God - just not my son. Even though my son was in his late twenties, I felt as a parent it was my responsibility to fix all of his problems and make him stop abusing his body and mind. He had a heart problem since his early teens which was one more reason why I felt I had to save him from his harmful behaviour. One night at an Al-Anon meeting, I listened to our discussion of the slogans. Someone described how she used, "Let go and Let God". She made a sign and hung it where she could see it many times each day. Suddenly her sharing lit a thought in my mind and helped me realise that I was being very selective in my use of the program. When I got home, I put the sign on my refrigerator so I could see it every time I was in the kitchen near the phone. It made all the difference in my growth through this program. The sign said, "Chet, God doesn't require your help today"
Today in Step 3 I turn my son over to my Higher Power. If he chooses to drink, I can't do anything about it - except to pray that God will watch over him. My son is in God's hands now, and I have serenity. I can begin to work the rest of the Steps in Al-Anon so I will continue to recover and grow.
Reprinted with permission of The Forum, Al-Anon Family Group Hdqs, Inc. Virginia Beach, VA USA.