NATIONAL CONVENTION 2020

DURBAN, KWA-ZULU NATAL

Date : 10-12th April 2020

Venue : University of Kwa-Zulu Natal,

Westville Campus
Greetings to you all for the New year. I am pleased to report there is a huge hype and portfolio holders are in readiness to take 2020 forward. Over the last 18 months, members of this committee gave more than 100% off themselves to the planning process. Their passion and commitment was outstanding. A special thank you to all other members that joined in. We are quite relaxed right now as a lot of the important work has already been done. Our finances are looking good and fundraising has come to an end. There is just 3 MONTHS TO GO and approximately another 3 to 4 meetings left, so I urge you to make every effort to be a good host as this is YOUR Convention…. Vilo S (Convention Chair)
COME JOIN US AT CONVENTION 2020
MEETINGS: Submissions for speaker nominations is now closed. A selection process is being finalized and the members selected to share their experience, strength and hope will be notified shortly.
REGISTRATION: Pre-registration is now open and all members are encouraged to pre-register to alleviate unnecessary queueing and minimize the amount of cash being handled at the venue. Please find attached pre-registration form.
Cost is as follows : Al-Anon – R 130.00, Alateen and Visitors – free.
LITERATURE: Literature has lots in store for YOU. We have managed to obtain a few lovely books to make your trip to Convention a little sweeter, besides all other interesting self-help literature, we have just a few LARGE PRINT One Day at a Time and Courage to Change by courtesy of a very grateful member of our Fellowship and wait for this – even our most sought after book "LOIS REMEMBERS." KZN also has Convention Packs of 8 super awesome pamphlets put together for a mere R54.00. This is just a peek into our determination in making KZN Literature a browsing point – as they say – the EARLY BIRD catches the worm....
ENTERTAINMENT: An exciting Saturday evening is planned with our members enjoying fellowship, friendship and fun whilst they dance the night away to a live band.
MEALS: Joint refreshment breaks will be hosted at the AA Tea stations. Tea, coffee and snacks will be provided. There will also be a variety of food stalls on site for purchasing of lunch and dinner. A tuck-shop will be operational on Saturday night.
CRAFTS: Be dazzled with the many unique items handcrafted by our crafts team.
SOUVENIRS: Golfers, t-shirts and racer backs are currently available for purchase. Other memorabilia will also be available at the Convention.
ALATEEN: Children between age group 9 to 19 years are welcome at Alateen meetings. Craft workshops, meetings and other exciting events are being planned.
ACCOMMODATION: Enjoy the FUN - SUN - SEA of our host city Durban which has many lodges and hotels close to the Convention venue.
Please find accommodation list available on the AA website http://www.aasouthafrica.org.za/Members/NationalConvention
The Convention 2020 committee is inspiring for a co-operative Convention with all members being actively involved and looks forward to any suggestions, queries and feedback. Kindly liaise with our Convention Chairperson, Vilo S (Email : Viloseni.Singh@durban.gov.za)
AL-ANON… There is no standing still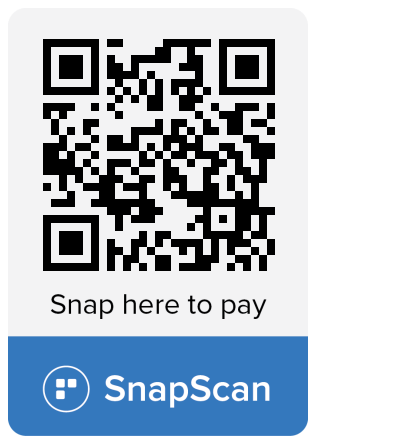 Your contributions to Al-Anon Family Groups, whether you are at a meeting, Rally, or other events, are essential to the operation of our Area office. These funds go towards your own meeting's rent, teas, etc. Our Area office would have closed long ago except for your valuable contributions. These funds pay the office rent (we have the smallest office we could find), running expenses, and literature. These funds keep our office open 3 days a week so we can provide help and support not only to existing groups, but to those who need our strength and hope.
On our website – www.alanongauteng.co.za – you'll find a QR code that enables you to make a donation using SnapScan on your phone. (or you can scan this one)
SnapScan (one of the most secure and easy payment systems in ZA) has recently launched a new feature that gives people the option of repeating their donations, turning them into monthly, ongoing payments of any amount.
Al-Anon G&D has activated this feature on SnapScan, and allows you to do either single or repeat transactions. Download it on your phone now from the Playstore – and you are all set! We also have it at all our Rallies for literature & other sales.
When you scan our QR code, you will be given the option to do a repeat payment. Do it once a month & then you don't have to remember.
We hope you will take full advantage of this, as your support is invaluable to keeping our office open, provide Groups with literature, and help for those in need.
Many thanks
TRADITION 7
Every group ought to be fully self-supporting, declining outside contributions.